Tooth loss can make you feel self-conscious and impact dental function, inhibiting your ability to speak, eat, and smile with confidence.
At Stubbs Dental, we can restore your smile by replacing missing teeth with restorations anchored by dental implants.
Learn why patients come to our implant centers in Bountiful, Layton, Murray, and Lehi, UT.
Check Out Special Deals
for Dental Implants
Stubbs Dental has special discounts on implants and other dental work at our four Utah office locations. Check back with us regularly to find out how you can save on implants and other types of dental care.
How Do Dental Implants Work?
A dental implant functions as an artificial tooth root. After being surgically placed into the jawbone, the implant fuses with the structure of the jawbone.
Dental implants are made up of three parts: the implant post that is anchored into the jawbone, an abutment that sticks out from the jawbone and gum tissue, and a dental prosthesis (crown, bridge, or denture).
See What Dental Implants Can Do for You
"I finally saw me again... It was like a dream come true!"
Want a Lasting Solution to Missing Teeth?
Contact Our Dentists to Learn More About Dental Implants
"Thank you for my fantastic new smile!"
Patients Love the Results of Their Dental Implants
My experience with Stubbs Dental was absolutely wonderful! I recently got 2 dental implants and was so happy with the care I received. Dr. Shane Phillips and Madison took care of me. Getting implant surgery was a big decision for me but the knowledgeable and experienced team at Stubbs eased all my concerns. Thank you for my fantastic new smile!
View on Google
Stubbs did such a good job with my crown and implant! I've been through a lot of dentists over the past 8 years who have kept messing up my front teeth, but Stubbs was finally able to fix them. Ari was super awesome, and I'm grateful for everyone on the team who were able to make my teeth dreams come true!
View on Google
All-on-X Dental Implants for Full Arch Replacement
Support a Full Denture with a Few Strategically Placed Implants
All-on-4 Implants
The All-on-4 system allows our dentists to support a full denture with just four carefully positioned implants that maximize jawbone stability.
All-on-X Implants
When more than four implants are required to keep a full denture in place, we can place an additional post and abutment as needed.
Implants Are Incredibly Effective
Check Out These Dental Implant Before and After Photos
Over the years, we've helped so many patients at our implant centers in Bountiful, Layton, Murray, and Lehi, UT. Here are two notable success stories that demonstrate the benefits of implant dentistry.
Technology and Implants
Advanced and Enhanced Care
Our implant centers use the latest diagnostic tools and technology to assist with the treatment process. Digital X-rays and 3D cone beam scanners will help us assess your bone structure and view your teeth from all angles. This will help us determine the optimal position of your dental implant or implants.




Giving People a Reason to Smile
Another Patient Shares Her Dental Experience
"Im am very happy and pleased of the work I have had. I had some teeth removed and post implants put in my bottom jaw. Highly recommend their office for anyone who's looking for beautiful teeth to walk out with sameday. Not once have I had any problems with anything. Stubbs Dental is amazing. I'm SO HAPPY. "

Debra Lopez
How Much Do Dental Implants Cost?
There's no one set price for getting implants. The final price tag will depend on a number of factors, including the number of implants and the need for preparatory procedures such as a bone graft. That said, dental implants are a worthwhile investment based on the immediate results and long-term benefits.
Financing Options for Dental Implants
Are You a Good Candidate for Dental Implants?
Take a 60-Second Quiz to Find Out
Reasons You Should Consider Dental Implants
We see many patients each year at our implant centers in Bountiful, Layton, Murray, and Lehi, UT. Here are some common indications that implants are a good investment in your oral health.
You Are Missing a Tooth
If you lose a permanent tooth because of trauma or severe tooth decay, we can place a dental implant in the tooth gap to support a custom crown.
You Have Irreparably Damaged Teeth
While our dentists will always strive to save a patient's teeth, there are some cases in which extraction and the placement of dental implants is the most sensible option for care.
What Our Dentists Will Look for During Your Visit
Before we place any titanium or ceramic implants, our dentists will perform a comprehensive exam to determine if you are suitable for implant dentistry. Using the latest dental technology, we'll keep an eye out for:
Adequate Bone Density - A dental implant requires a solid foundation of bone along the jaw for adequate stability. Since tooth loss can lead to bone loss, patients may need a bone grafting procedure before any implants are placed.
Healthy Gums - Patients should be completely free from gum disease. If gingivitis or periodontitis is present, it can seriously hinder the long-term success of your dental implants.
Good Overall Health - Dental implant patients should not have any serious medical conditions, particularly diseases that could inhibit the body's natural healing response.
Adhering to these criteri will help ensure great results and long-term success for patients at our implant centers in Bountiful, Layton, Murray, and Lehi, UT.
Are You Ready to Discuss Implants with a Dentist?
Contact Stubbs Dental to Request an Appointment
Since opening in Bountiful, UT, in 2014, Stubbs Dental has changed countless lives throughout the state. Our doctors are proud to have built such meaningful connections with our patients, and always try to give them great experiences and new reasons to smile.
You are welcome at our Bountiful, Layton, Murray, and Lehi implant centers. We're ready to listen and help develop a treatment plan just for you.
To get the dental implant process started, contact Stubbs Dental today.
"The place to go for implants!"
More Patient Reviews from All Over Utah
I researched extensively before making my decision to go to Stubbs Dental. I definitely made the right decision. I love these guy's! Dr. Willardsen is wonderful. The staff for Stubbs is very welcoming. He is an exceptional dentist. I feel like he actually listens to my concerns and makes sure everything I'm looking for is perfect! So if you're looking for the place to go for implants this is it!
View on Google
Stubbs Dental is in my opinion yet shared by many others as being the Premier dental business in the Wasatch Range Utah. They are not only a recognized business for delivering state of the art Dental implants but also having the most friendly professional staff in all of its offices. Stubbs dental is well known for its philanthropic attitude and giving to the communities it serves. I recommend it to all who are looking for quality care and positive patient staff communication.
View on Google
Dental Implant Treatment Timeline
A Step-by-Step Look at the Treatment Process
Stubbs Dental takes a state-of-the-art approach to implant dentistry, from the initial planning stages to the surgical procedure and aftercare.
Zach's Dental Implant Story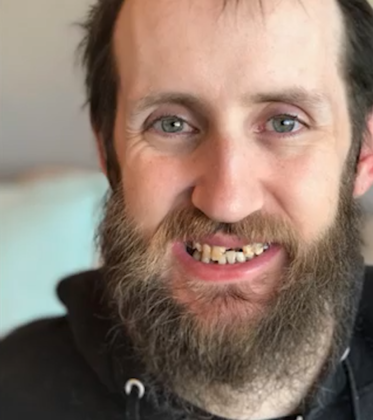 "I couldn't feel more empowered today."
A Patient Shares Their Implant Story
"I am SO grateful for Stubbs dental. Phenomenal work and service. I was really nervous getting dental implants after over a decade of insecurity and never smiling. Seriously life changing. I couldn't feel more empowered today. The staff is knowledgeable, sweet and understanding. Sincerely, thank YOU for giving me my smile back."

Rachel Santizo